Chilli Jam Gift Box
Regular price

Sale price

$29.00
Gift a little heat to your loved ones with our suave and classy hand crafted gift box, containing a selection of best-selling chilli jams in 125g jars.  You can send direct to recipient and add a gift note in the cart.

Fireflame Chilli Jam- mild & sweet
Jalapeno Jam- hot & spicy
Lemon Drop Chilli Jam- fresh & very hot
Scotch Bonnet Chilli Jam- super duper hot!
Spill the spice:
Our chilli jams are hand-made in small batches at our jam factory in Bristol. We work with chilli farmers across the UK and worldwide to source unique chillies for each jam and then ensure each jar is jam packed full with them.  We don't add tomatoes, peppers or garlic to our jams - we want the true chilli flavour to shine through. Spice up supper, slather on a roast or shake over ice for a kicking cocktail – the options are endless. Perfect for all chilli lovers!
Gift boxes:
The foil embossed gift boxes are hand made for us in Sheffield. Each gift box is covered with beautiful textured grey paper and embossed in white foil to create a seriously stylish and wonderfully unique gift.  We searched long and hard to find a company whose commitment to sustainable production matched our own. Delighted to share we found the perfect one for us and all paper is sustainably sourced and FSC certified. The final product is so pretty you won't even need to wrap - pop on a bow and you're good to go!
Ingredients

Please refer to individual product pages for more information.
Storage & Shelf Life

You will receive with a shelf life of at least 1 year. Once open keep refrigerated and enjoy by the best before date. 
Nutritional Value
Delivery Promise

We have designed a very clever delivery box to ensure your delivery gets to you in one piece. Currently over 98% of deliveries do. We promise to replace any broken items should you be one of the few unlucky ones - find out more here
Share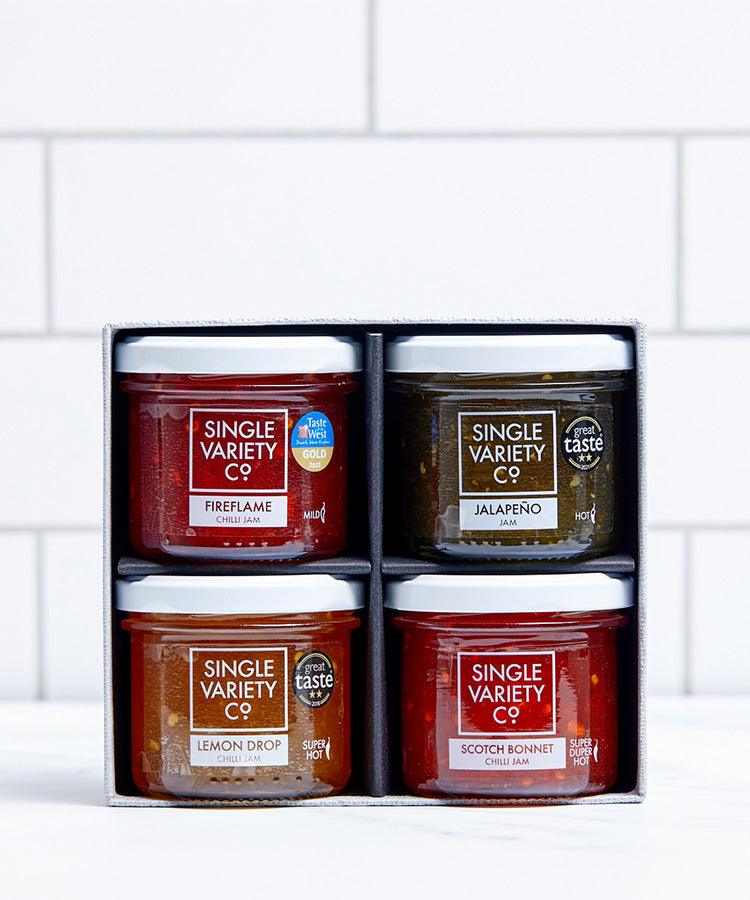 Just WOW - loved them !!
I am new to Single Variety Products and initially thought they were expensive compared to other brands.
Hey - its Christmas and I thought I would try these and treat myself to the selection of Chilli Jams.
I absolutely love Chilli Jam and have tried many varieties but, I am so glad I splashed out on the Single Variety selection. I wanted to wait for Xmas but couldn't and I have tried every one since I received them last week.i especially loved the Lemon Chilli drop ❤️
It's true - you get what you pay for, and these jams were packed with chillis and just enough spice to match the labels. Delicious with cheese,ham, steak and almost everything.
Next time I want Chilli jam - I know where to go. Yes, Single Variety ❤️
A fantastic selection
Having enjoyed every product I've had ( fruit and chilli) it's nice to be able to spread the joy by giving my chilli loving friend this beautiful gift set . Not only are the jams wonderful but I want to thank Katrina for providing such excellent service when I had delivery problems. A company that takes pride in their product and looks after their customers. Fantastic
Gift box
I brought one of these for my son last Christmas, he so loved it I have been given some very obvious heavy hints that he would like one this year, he's going to be a very happy man when Santa comes. I can't rate this high enough
Take A Look At Our Seasonal Items